I decided to take a moment to answer a question on how I created this shot. The refined calendar glamour shot is popular because it gives a refined professional feel from the lighting. I will show you my setup and steps so you can try it on a budget. It doesn't take a complicated setup to achieve. If you use it please email me your work so I can see what you did. Cheers
Equipment Needed: The actual stuff I used.
Reflector with silver side on top

The first step was finding a location. We found a bar that graciously let us shoot on Sunday afternoon for 2 hours which was more than enough time. I looked around and found a mirrored stage where bands play which happened to have neon signs which I liked. The Budlight sign was my favorite with the red and blue neon glow that was behind me. I decided that would make my ideal shot and here is how I set it up.
Finding the shot is the next step. I wanted to make sure the color gels don't flare in the lens and the fan distance was enough to blow the hair back but not too much.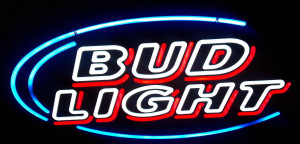 I didn't like the Bud Light neon sign glow so I decided replaced it later in photoshop. It just wasn't bright enough for my liking. I was lucky to find an image on the internet of it.
Here is an overview of my editing in Photoshop. I cloned out the scratches on the left and sign on the right. The photo looked too busy so I decided to duplicated the layer and blur it. I masked her out so she would be the center of attention. For the skin I used my retouching action shown in the video below which you can get here. It makes her face, arms, legs and stomach nice and smooth without losing the details of the skin and getting that horrible plastic look.
Photo Shoot Details:
Location: Lexington, KY
Model: Te'Anna
H&M: Model
Photographer: Zabu Mutua
[exif show="camera,focal_length,aperture,shutter_speed,iso"]
http://instagram.com/sheisteanna